Unlike traditional saunas which operate at extremely high temperatures, our FIR sauna is inferred. The sauna experience offers a gentle, soothing and therapeutic heat, that promotes relaxation and improved sleep.
Feel relaxed during each session while your deep tissue sweats our various toxins and stress. Re-harmonize and energize your body's internal molecules and help dilate blood vessels. FIR sauna sessions can help with the following.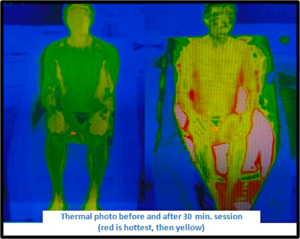 Detoxification
Anti-Aging & Skin Purification
Pain Relief
Relaxation
Cell Health
Improved Circulation
Lower Blood Pressure
Weight Loss
Wound Healing
Sweating is good for the skin.
A study published in The Journal of Cosmetic and Laser Therapy showed significant improvements in skin appearance after just 12 weeks of sauna skin therapy using near-infrared technology. Participants experienced a reduction in wrinkles and crow's feet, we well as improved overall skin tone, including softness, smoothness, elasticity, clarity and firmness.1
Sweat Therapy: 
Price: $1/minute –
15 minute average
Call now for an appointment
859-253-0012 or 1-800-578-8552
(1 B.A. Russell, N. Kellett & L.R. Reilly. Study To Determine the Efficacy of Combination LED Light Therapy (633nm and 830nm) in Facial Skin Rejuvenation. Journal of Cosmetic and Laser Therapy, 2005; 7: pp 196-200.)