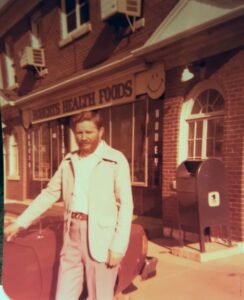 In 1973, Kentuckian R. Jackson "Jack" Roberts, founder of Roberts Health Foods, was at a turning point in his life. He had quit smoking after 40 years, started eating healthier and became interested in health and helping others become healthier.  Jack thought, why not start a health foods store and he did in a historic brownstone building on 7th Street and North Broadway in Lexington, Kentucky.
Jack soon realized that there was far more to health than selling healthier foods and supplements. So Jack sought further education and became a Naturopath, Iridologist and Colon Hydrotherapist to better serve the community.
In 1980, to devote more time to Alternative Healing, Jack stepped away from the health food store and his wife Teri M. Roberts took over.
Teri was an accomplished artist from Glendale, California who had always been raised to live a healthier life but felt this move would further her efforts to learning about health. Teri became a Colon Hydrotherapist, Iridologist and Certified Natural Health Professional in efforts to improve on Roberts Health Foods' mission of "Better Health Thru Understanding".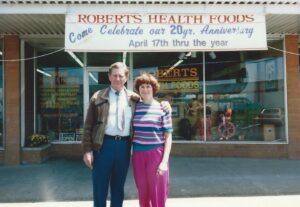 In 1984, Roberts Health Foods moved to Eastland Shopping Center where they continued to serve the local community with high quality supplements, specialty health foods, including an alternative deli and juicery, as well as provide knowledgeable service to their customers.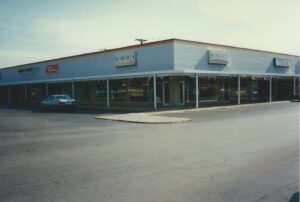 In 1997, Roberts Health Foods moved two doors down to 1020 Industry Rd. Suite 10 in the Eastland Shopping Center.  This move gave Roberts twice the space to offer a better variety of specialty foods, frozen and refrigerated foods and supplements, sports supplements and weight loss products, high quality vitamins and minerals, extracts, bulk and bottled herbs, homeopathics, aromatherapy, beauty products, unique books, and healing stones.  As well as, opening an alternative service center providing Holistic Iridology, Ionic Foot Detox, Colon Hydrotherapy, Reiki, Astrology and Sweat Therapy.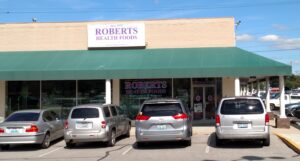 In 2010, the Roberts' daughter, Sybil Skinner, became the second generation to own and operate Roberts Health Foods.
Sybil has followed in her parents footsteps becoming a Holistic Iridologist and a Certified Natural Health Professional.  For over 40 years, she has been dedicated to learning about health and nutrition and following a healthy lifestyle as well as competing in fitness competitions and triathlons.  She has extensive knowledge on nutrition, herbs, aromatherapy, homeopathy and sports supplements. She follows the mission her parents set out of Better Health Thru Understanding and strives to make Roberts Health Foods the "Good Health People" by ensuring customers receive knowledgeable service with high quality products to create a healthier future for all.