SUGAR COOKIES
By Stephanie F. Purista
Just in time for the holiday season, these soft-baked gluten- and grain-free goodies will quickly disappear!
INGREDIENTS:
For Topping:
Vanilla Cake Batter Coconut Butter

Sprinkles
DIRECTIONS:
In a clean bowl, mix together ghee, coconut oil, and coconut sugar. Slowly add eggs, vanilla, and almond extract.

In a separate bowl, pour baking soda, salt, almond flour, and coconut flour.

Add flour mixture with the creamed ingredients and blend well with an electric mixer.

Form the dough with your hands and wrap in plastic wrap. Flatten the dough and cool for 30 minutes or overnight.

Preheat oven to 350 F and line 2 baking sheets with parchment paper.

Sprinkle a clean surface with coconut flour and roll the dough until you reach a thickness of about 1/4 inches thick.

Using a cookie cutter, cut the cookies out to your desired shapes and place them on the baking sheet.

Bake for 15 minutes and let them cool on baking sheet for a couple of minutes.

Transfer them to a wire rack to complete cooling before topping with coconut butter and sprinkles.

Enjoy!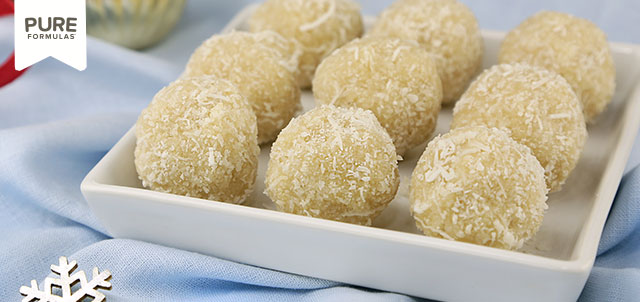 COCONUT SNOWBALLS
By Stephanie F. Purista
Celebrate the season with these crunchy-chewy, no-bake snowballs made with only four ingredients. Easy to make and easier to eat!
INGREDIENTS:
DIRECTIONS:
Combine 3 cups of shredded coconut with the almond meal, syrup, and coconut oil in a food processor or high-speed blender.

Start adding water slowly until you get the dough consistency you desire.

Pour remainder cup of shredded coconut on a cutting board or plate.

Decorate each snowball by rolling them on the shredded coconut.

Place each ball on parchment paper and store in the refrigerator.
NUTTY DARK CHOCOLATE FUDGE
By Stephanie F. Purista
A fudgeholic's dream come true! This delightful treat combines the purity of raw cacao with healthy oils and nuts for a truly decadent experience without the sin.
INGREDIENTS:
DIRECTIONS:
In a clean, glass bowl, combine all ingredients.

Place bowl on top of a pot of hot water to soften the ingredients.

Line a small baking pan or dish with parchment paper and pour fudge in.

Put mixture in the freezer until it hardens.

Cut the fudge into pieces and store in refrigerator.