VEGAN BREAKFAST TOAST
By Michelle S. Nutritionist
Toast to your loved one's health this Valentine's Day with these easy-to-make breakfast toasts!
INGREDIENTS:
DIRECTIONS:
Toast the gluten-free bread to your liking.

While the bread is toasting, wash the strawberries and blueberries, then peel the banana.

Cut the strawberries and bananas into heart shapes, and set aside.

Once the toast is ready, cover one slice with the hazelnut spread and the other with the nut butter.

Lovingly arrange the fruit on your toast.

Share and enjoy!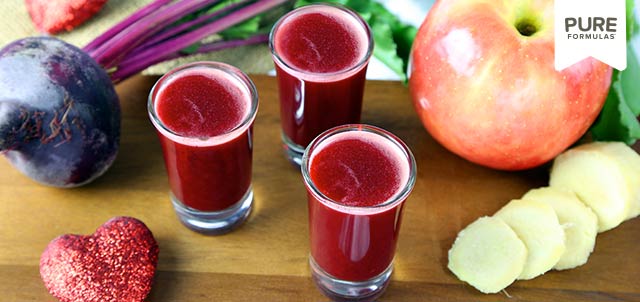 VALENTINE'S JUICE SHOTS
By Les V. Purista
This deep red love potion made with antioxidant- and nutrient-rich beet powder will have your partner falling in love all over again!
Instuctions:
Method 1: Juicer
1 large red delicious, gala, or yellow delicious apple

1 medium beet

1 1″ cube of fresh ginger
Directions:
Juice all ingredients

Serve in a chilled two-ounce shot glass
Method 2: Blender
Directions:
Blend all ingredients for 1 minute.

Strain pulp using a fine mesh strainer.

Serve in a chilled two-ounce shot glass.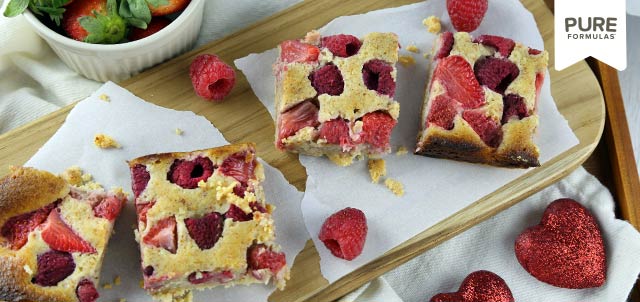 GLUTEN-FREE BERRY ALMOND BARS
By Stephanie F. Purista
These bars are fresh and wholesome, tart and tangy, with just the right amount of sweetness!
INGREDIENTS:
For the crust:
For topping:
DIRECTIONS:
Preheat oven to 350F.

Line a square 8×8 pan with parchment paper and grease with melted coconut oil.

In a clean bowl pour in all crust ingredients and mix well.

Press crust firmly into pan with hands.

Using a food processor, grind the almonds with tapioca flour and salt.

Then add the coconut oil and beat until it dissolves with the mixture.

Add the egg, vanilla and almond extracts, and the honey and mix until you form a paste.

Toss the fruits with the lemon juice and top the paste with them.

Bake for 40-46 minutes.

Remove from oven and let it cool before serving.

Cut into small squares and store any leftovers in the refrigerator.