BCM-95 Curcumin Equals Benefits of Prescription Drug for Osteoarthritis
Researchers note higher levels of safety in curcumin group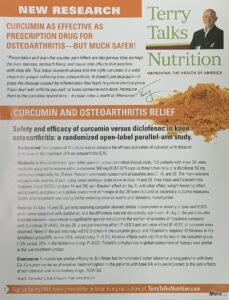 A recent human clinical trial, published in April of 2019 in the open access journal Trials, examined the benefits of a patented curcumin with turmeric essential oil containing ar-turmerone complex called BCM-95® Curcumin compared to the prescription non-steroidal, anti-inflammatory drug (NSAID) diclofenac sodium (one brand name is Voltaren®) for use in treating osteoarthritis (OA) of the knee. The study included 139 patients between the ages of 38 and 65 with symptomatic OA of the knee. They were randomly assigned to receive either 50 mg diclofenac twice daily, or 500 mg BCM-95 Curcumin three times daily for 28 days. Participants were assessed prior to the initiation of the study, and at days 14, and 28 using a visual analog pain scale and the Knee Injury and Osteoarthritis Outcome Score (KOOS).
[Shep D, Khanwelkar C, Gade P, Karad S. Safety and efficacy of curcumin versus diclofenac in knee osteoarthritis: a randomized open-label, parallel-arm study. Trials. 2019 Apr 11;20(1):214.]
The improvements in osteoarthritis pain and functionality were the same in both the curcumin and diclofenac groups. However, there were three times as many adverse effects in the drug group compared to curcumin. Also, 28% of the participants in the drug arm of the study had significant gastrointestinal discomfort requiring the use of H2 blockers (two brands of H2 blockers are Tagamet® and Zantac®) to address this adverse effect. None of the patients in the BCM-95 Curcumin arm of the study required H2 blocker medication. Another finding of the study was that curcumin exhibited anti-ulcer and anti-flatulent (intestinal gas) activity in secondary outcome measures.
The researchers concluded that "Curcumin has similar efficacy to diclofenac but demonstrated better tolerance among patients with knee OA. Curcumin can be an alternative treatment option in the patients with knee OA who are intolerant to the side effects of non-steroidal, anti-inflammatory drugs."
It is important to note that the form of curcumin used in the study, enhanced absorption BCM-95, is combined with turmeric essential oil containing ar-turmerone. Therefore, results may not apply to other forms of curcumin.